Welcome to

Bethany's Stephen Ministry

For more than 25 years, Bethany's Stephen Ministers have been there to listen and care for members of our congregation and community who experience difficult life transitions.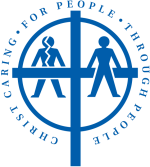 Informational "Come & Go"
Nov 13, 9:45 - 11:15 AM, Room D-205
Come find out what Stephen Ministry is all about! This is a time to ask questions, hear about 1-on-1 Christian caregiving, and consider if YOU might be a good Stephen Minister.
The Stephen Ministry Logo symbolizes that we all are broken people and that it is only through the cross of Jesus that we are made whole. The Stephen Minister is the Care Giver. Christ is the Cure Giver.
For more information or a referral, contact: Erin Temple, Director of Care Ministries, 512-258-6017 x281
What is Stephen Ministry?
Stephen Ministry equips Bethany members (Stephen Ministers) to provide confidential, one-to-one Christian care, to persons experiencing difficulties such as changes in relationships, family, employment, relocation, finances, health, spiritual needs, and more.
Stephen Ministry carefully recruits, selects, trains, and provides on-going support to Stephen Ministers so they can provide the best care to their brothers and sisters in Christ.
Stephen Ministry is grounded in Jesus' commands…
To equip the saints for the work of ministry. - Ephesians 4:12a
Therefore encourage one another and build up each other. - 1 Thessalonians 5:11
Bear one another's burdens, and in this way you will fulfill the law of Christ. - Galatians 6:2
For more information or a referral, contact:
Erin Temple, Director of Care Ministries
512-258-6017 x281
How Can I Benefit from a Stephen Minister?
We all experience challenges in life—times when we could benefit from the support of a caring Christian friend. Stephen Ministers will "be there" for their care receiver, meeting faithfully for about an hour each week, for as long as there's a need.
Having a consistent and caring relationship brings hope and comfort through the love of Christ, the healing hand of God, and the power of the Holy Spirit.
Sharing with someone confidentially who will not judge you or tell you how to fix the problem, lessens the burden.
Verbalizing thoughts to a listening ear can remove the power of the situation over you and allow you to better think through and respond to situations.
Knowing that the Stephen Minister will provide distinctively Christian and strictly confidential care for as long as there's a need brings comfort, assurance and peace.
NOTE: A Stephen Minister is not a pastor, counselor or therapist, problem solver, errand runner, or casual visitor. A Stephen Minister is the Care Giver; God is the Cure Giver.
Could you or someone you know benefit from the confidential, one-to-one care of a Stephen Minister? To Hear Care Receivers Tell Their Stories, Click Here
For more information or a referral, contact:
Erin Temple, Director of Care Ministries
512-258-6017 x281
Become Stephen Minister
Stephen Ministers Offer God's Loving Presence
A Stephen Minister is a Bethany member who has completed 50 hours of Christ-centered relationship training and is willing to make a minimum two-year service commitment. Once trained, commissioned Stephen Ministers provide quality care to a care-receiver for about one hour each week, to help in a life challenge or crisis. Commissioned Stephen Ministers also commit to attend peer supervision and continuing education sessions twice per month.
Joys and Benefits of Being a Stephen Minister
Experience the fulfillment of serving God in a meaningful way.
Learn the skill of active listening, reaping the benefits in all of your relationships.
Be amazed at the joy of being a care giver and seeing God be the cure giver.
Develop a closer relationship with God as you become a vessel through which He heals His hurting children.
Discover the amazing transformation of your prayer life as you deepen your spiritual relationship with God.
Stephen Ministers Share their Experiences
It really takes the pressure off to know I don't have to try to fix things. All I need to do is just be there—and watch God work in my care receiver's life.
A byproduct of being a Stephen Minister is that my faith has deepened. I talk to God all the time and constantly see Him at work in my life.
I feel now that God definitely has a use for me—to walk alongside someone and help make their load a little bit lighter.
Prayerfully Seek God's Direction
Do your spiritual gifts, interests, wounds and passions match this ministry?
Are you desiring to grow spiritually and make a difference?
Is God calling you to Stephen Ministry?
For more information or a referral, contact:
Erin Temple, Director of Care Ministries
512-258-6017 x281