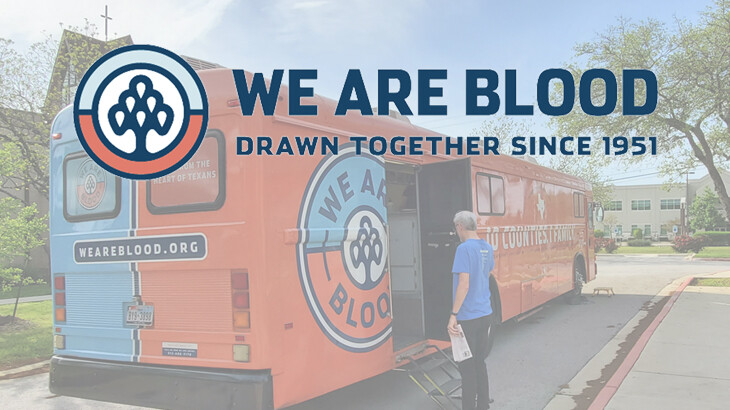 Sunday, June 04, 2023
,
8:00 AM - 1:00 PM
Location: Bethany United Methodist Church - Austin, TX, 10010 Anderson Mill Road, Austin, TX US 78750
Blood Drive!
8:00 AM - 1:00 PM

Bus in the area between the Worship Center & The Cornerstone
For information about blood donation at this time of the COVID19 Coronavirus, CLICK HERE
Please do not enter the blood drive area until your appointment time.
We will be using a touchless thermometer to check your temperature before entering.
All donors are asked to wear a face mask and practice social distancing during the donation process.
If you have eligibility questions, check out We Are Blood's website.
If you have more specific questions or would like assistance signing up, call We Are Blood at 512-206-1266.
For questions specific to our drive, your Bethany United Methodist Church contact is Jim Bos, 801-842-3466 or your "We Are Blood" contact, Cyrstal Moreno, 512-585-5415.

*Remember! Eat a full meal before donating and bring your photo ID.
The Need for Blood Donations is great at this Time! - LEARN MORE
Bethany United Methodist Church, 10010 Anderson Mill Rd., Austin, TX 78750
---
Bethany Contact:
Jim Bos, 801-842-3466
We coordinate 5 blood drives yearly at Bethany UMC. We hope you can participate and help us achieve this goal. We have a total of 27available appointment times with a unit goal of 20. There will be a bus parked in the area between the Worship Center and The Cornerstone. Someone's Life is In Your Hands!
Types of Volunteers Needed:
You must be at least 17 years old and weigh at least 115 pounds to donate blood.
How to volunteer:
Click the "Schedule Here" button at top of page.
IMPORTANT: When you come on Sunday to donate, please remember to eat a healthy breakfast with protein
To Learn more about We Are Blood