Welcome Kelli Thompson!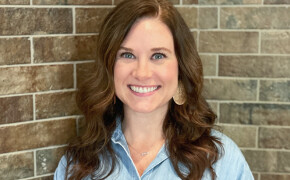 Welcome Kelli Thompson as our new Connections Coordinator!
We are excited to announce that we have hired Kelli Thompson as our new Connections Coordinator! Kelli has been a member of Bethany since 2011 along with her husband Zach & two girls Caroline & Eliza. Kelli has volunteered for many things in ministry areas throughout the years, including serving as one of the Assembly Leaders at VBS (usually whatever crazy character they have that year). As she said on her resume, one of her skills is "literally loving everyone". Kelli brings a love and passion for people and our church that will be an asset to our Bethany family. If you do not know her yet, you will soon feel like a long-time friend as she is great at making connections with new people, which is why we hired her!

Kelli has a Theater degree from Oklahoma Baptist University and has a professional background as a center director of a Sylvan Learning Center where she managed a teaching team, oversaw individualized programs for students, developed relationships with families and the broader community, and handled all marketing and advertising for the center. We're excited to see her use her experience and skills to help engage members and visitors in the life of the church, as she helps them find the next right step to continue growing in their faith.