2021 Easter Offering Recipients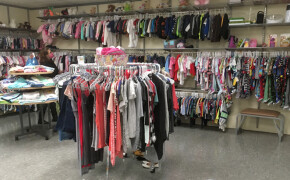 We continue our time-honored tradition of directing our Easter offerings to mission efforts.
Even in pandemic, Bethany remains steadfast! We will continue our time-honored tradition of directing our Easter offerings to mission efforts. This year, any donations not specifically directed to other funds will go to two local missions – Hill Country Community Ministries and Christian Resource Center – and one international mission - Shalom Home in El Salvador. Join us as we pray to God for the offerings we are called to make for these efforts in offering Christ in our community, and around the world. Learn more about our 2021 Easter Offering recipients below:
Christian Resource Center (CRC) is a network of ten member ministries, three referral partners, eleven member churches, and individuals working together for the restoration of families. Their goal is to promote financial stability and to bring families to wholeness and sustainability as member ministries provide free or low-cost services that assist families to get better paying jobs. CRC also encourages spiritual growth and connection to a faith family. They seek to unite the body of Christ to more effectively meet the daily spiritual and financial needs of those in our community.
Hill Country Community Ministries (HCCM) is a coalition of churches assisted by businesses, civic organizations, service clubs and individuals that provides assistance for people in crisis and those living in poverty. Their goal is to serve clients with dignity and compassion in an atmosphere of neighbor helping neighbor. HCCM operates a food pantry that stocks nonperishable food and essential personal care items. The thrift store provides gently-used clothing for children and adults, children's shoes, and blankets. Monthly fresh food pantries are scheduled throughout the community to create easier access for our neighbors to receive fruits, vegetables, baked goods, eggs, and other perishable items.
Shalom Home (El Salvador) is a collaborative effort of many churches and organizations to create a flourishing environment for children and families in El Salvador. The Christian school provides education for children from preschool through high school as well as residential dorms. Counseling, developmental therapies, and special education are additional services provided as needed. A medical center offers no/low-cost care for anyone in the community. Shalom Home offers a feeding program and Bible program, with youth serving those in need. A church facility is also run for the residents and staff.
Easter Offering 2021
Click an image to bring up viewer - Use arrows on side to scroll through photos