Years ago, I heard a definition distinguishing fear from anxiety. I don't remember the exact distinction, but I do remember that fear was more concrete while anxiety was more diffuse. So, as many of us do, I consulted Google and found the following simple chart: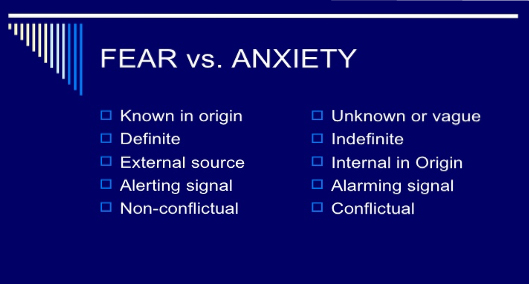 Maybe a bit oversimplified, but you get the idea. We know what we are afraid of. Our systems serve us well as we prepare to deal with it. Anxiety can help us prepare to face a less defined threat. But anxiety can also become an ongoing state of alarm over undefined threats. Physically, we just aren't able to sustain that state of alarm, nor are we created to sustain that. That is why anxiety can be so destructive.
Additionally, anxious people tend to seek out others who share their anxiety. Perhaps this is some latent tribal instinct for protection. But in our society, it often tends to separate us into silos filled with others who share our anxiety. And that reinforces our anxiety instead of alleviating it.
We live in anxious times. We are in the midst of a pandemic, with multiple cultural divides and issues, facing a major election. All of these are important and impact our lives. But COVID-19 has been the huge, unknown challenge. We still have much to learn about it. We are having to adjust to a state of social "distancing" that we haven't faced since 1918 – which means almost all of us are doing this for the first time. Our latest challenge has been what to do about school. As I've listened to parents, students and teachers, the repeated refrain is, "We don't know how this is going to go – we've never done this before." That seems like a good recipe for anxiety to me!
Paul advised the Philippians – and us – "Do not be anxious about anything, but in every situation, by prayer and petition, with thanksgiving, present your requests to God." (Phil. 4:6 NIV) Before you think, "Easy for you to say, Paul," remember the incredible threats Paul faced. It may have been easy to say, but Paul lived it – and that wasn't easy. However, with each threat, he learned to trust God more. And, in the face of death, he lived with courage and confidence born of that trust.
Like you, COVID-19 is the first pandemic in my lifetime. I face decisions I've never faced before. There are days I struggle. But I've also faced a first hurricane, a first tornado, a first flood, a first family death … you get the picture. In each, I found God was with me. And with each passing "first," God has taught me to trust Him ever more. I'm not in Paul's league – and I'm not sure I want to learn those lessons! But God's presence with me is the best answer for my anxiety. So, I will keep praying and trusting. Join me?
Be Blessed,
Tom