Family Mental Health: Helping Your Tween During COVID-19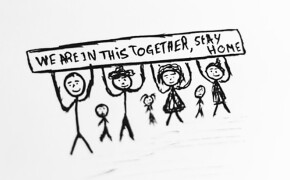 The tween years are typically considered those that correspond with the years in middle schools.  Although each child is different, it is usually a time of wide fluctuations and increasing reliance on peers for guidance rather than parents. 
*The following article is Part 2 of a 4-article series designed by Bethany's Family Faith Formation Team to help parents support the mental health of their children during the current pandemic. Article 1 is designed to help parents of teenagers and can be accessed here.
The "tween" years are typically considered those that correspond with the years in middle schools. Although each child is different, these years are usually a time of wide fluctuations and increasing reliance on peers for guidance, rather than parents. Parents will see changes in patterns of growth, fluctuation in emotions, development of new interests, and often the rejection of familiar comforting routines. Throughout it all, tweens try to maneuver, and parents try to adjust to the changes as their child moves from childhood into the teen years. Our current COVID quarantine and accompanying school closures have added other layers of challenges. Do any of these sound familiar to you?
Connecting with a less-accessible peer group; availability is typically through social media without a great deal of natural adult support

Hormonal changes that bring wide fluctuations in emotions that are often difficult to manage

Difficulty in critical thinking that affects your tween's ability to process news stories as well as solve problems

Rejection of old comforting routines as being too "babyish."
In the first article of this series, I suggested some routines and things to consider as you raise your teenagers (ex: high schoolers) during these difficult times: maintaining a regular schedule, sleep, a healthy diet, exercise, services opportunities, etc. Tweens will benefit from these same essentials, but due to their "in between" age, here are some additional tips for parenting them:
Monitor social media. Help tweens learn to monitor their own posts by encouraging a waiting period before posting. Role play ways that you can deal with peer conflict successfully.

Spot check social media periodically. Identify concerns and help identify ways to handle these in the future.

Help tweens learn the language of emotions.

Discuss ways that you successfully handle emotions, as well as ways that you were unsuccessful, and how you made subsequent personal changes.

Help tweens develop strategies to use when they feel emotions are out of control.

Help your tween develop skills in analyzing negative information. These should include determining the validity of the source of information as well as problem-solving strategies. Such skills can be used in a variety of situations from peer conflicts to evaluating news on TV.

Develop new routines for interacting as well as soothing an emotional upset.
For more details on any of the suggestions above, as well as a deeper look into the life and development of tweens, please reach out! As a member of Bethany's Mental Wellness Vision Team as well as an advocate of our church's children and youth ministries, I welcome any chance to help. Contact Director of Student Ministries, Kris Cutler, so she can introduce us!
---
---
ABOUT MARNEE LOFTIN
Marnee and her husband, Patrick, have been members of Bethany UMC for 5 years. Both are cradle Methodists, and have enjoyed being new members of this congregation. Marnee participates in the Special Needs, Mental Wellness and New Shepherd Ministry. She and her husband met while attending UT at Austin, and have been residents of Austin and the surrounding area for more than 50 years. They are the parents of two children and are now happily spoiling three teenage grandchildren who live near them in Cedar Park. Marnee retired after working as a School Psychologist for more than 35 years, and they are enjoying a chance to travel to many destinations on their bucket list. As with everyone, life has been a little less exciting recently. However, she now has the cleanest closets and drawers in Cedar Park!