Family Mental Health: Helping Your Teen During COVID-19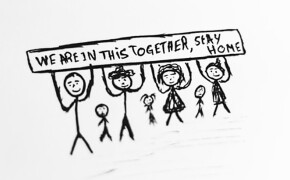 Teens are facing some unique challenges during this pandemic, and their issues are important for us to understand as we effectively parent.
In the fifth month of our "new normal," we are all tired. We are tired of restrictions, tired of endless demands on our time, and tired of changes and the continued unknown. If we are the parents of teenagers, we are also likely tired of the complaints of boredom, mood swings, and irritability. Teens are facing some unique challenges during this pandemic, and their issues are important for us to understand as we effectively parent.
Establishing independence as well as strong peer groups are critical needs for teens. With the sudden decrease in these opportunities, teens may feel overwhelming frustration. Additionally, the structure of teen brains is different from adults. They are more likely to act upon impulse rather than consider the consequences of their actions. All of these factors contribute to difficulties in the current situation.
The following suggestions are ways to help your teen during this challenging time. None will deal with specific issues for all families. Any will best be implemented through discussion with your teen rather than simple edicts. Consider the following:
Acknowledge that these times are difficult without any qualifying phrases such as "you will soon forget this."

or "It's going to be OK; don't worry."

Develop schedules that are flexible but provide a rhythm to the day, e.g. regular sleep, meals, and physical activities.
Develop rules for use of digital devices and ways to monitor this.
Set guidelines for in-person interactions that keep your teen safe.
Encourage learning a new skill to increase independence.
Monitor sources of news and discuss concerns.
Encourage volunteer activities.
Develop a daily check-in to monitor physical and emotional status.
Develop a list of "Special Treats" that can be used on difficult days.
Minimize showing your own frustration as much as possible.
Practice good self-care. Only by taking care of yourself will you be able to take care of your teen.
Stay available, stay safe, and stay sane!
ALWAYS...Watch for signs of more serious problems. These include significant gains or loss in weight, disturbed sleep, increased irritability, temper outbursts, crying, isolation from friends, or withdrawal from preferred activities. Consult a physician if these occur regularly.
---
---
About Marnee Loftin
Marnee and her husband, Patrick, have been members of Bethany UMC for 5 years. Both are cradle Methodists, and have enjoyed being new members of this congregation. Marnee participates in the Special Needs, Mental Wellness and New Shepherd Ministry. She and her husband met while attending UT at Austin, and have been residents of Austin and the surrounding area for more than 50 years. They are the parents of two children and are now happily spoiling three teenage grandchildren who live near them in Cedar Park. Marnee retired after working as a School Psychologist for more than 35 years, and they are enjoying a chance to travel to many destinations on their bucket list. As with everyone, life has been a little less exciting recently. However, she now has the cleanest closets and drawers in Cedar Park!