Created and Called to Thanksgiving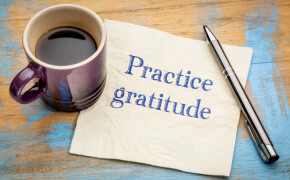 Enter [the Lord's] gates with thanksgiving and his courts with praise; give thanks to him and praise his name. - Psalm 100:4
Scripture calls us again and again to the practice of gratitude. Psalm 100:4 exhorts us to "Enter [the Lord's] gates with thanksgiving and his courts with praise; give thanks to him and praise his name." The act of "giving thanks" is mentioned about 100 times in English Bible translations.
But did you know we are created for gratitude? Because we are called to a life of thanksgiving, many scientific studies confirm that practicing gratitude makes us more happy, more productive, and more connected in our relationships. (Click here and here for some podcasts which explore studies on the science of gratitude!)
Because we are created for thanksgiving and we are called to thanksgiving, here are some ways to practice gratitude intentionally this holiday season.
Write a thank-you note. Write a note to thank someone. This note could be written to a friend, a family member, an acquaintance, a stranger, or to God.
Practice the Examen. The Examen is the practice of seeing God in your day. This spiritual exercise is great to practice alone or in community.
Keep a gratitude journal. Name three things every morning and/or evening. Thank God for these things!
Try a Thanksgiving Holiday Challenge. Between now and Thanksgiving, set a goal for giving thanks. See if you can write 25, 50, or 100 things for which you can give thanks. This is a great challenge to practice as a family, a church group, a Sunday School, a Grow Group, or any form of community. Pray about incentivizing this practice with ice cream if you feel your community can still practice this well!