Annual Conference 2022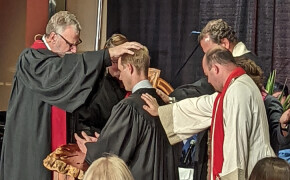 The highlight of the time was the ordination service. For those of us from Bethany, this was particularly true as Thomas Johnson was ordained a Full Elder in the United Methodist Church.
Since the beginning of the Wesleyan movement, annual conferences of Methodist preachers have been held. It is the time when we clergy gather together to renew our covenant with each other and to receive our appointment for the year from our bishop. (Yes, our appointment is always for one year. Some of us are blessed to have that renewed multiple times.) It is also the time when we conduct the necessary business of the annual conference. It is when we remember those who have died among our ranks and our families. And it is when we consecrate and ordain those entering the ordained ministry of the church.
Several things stood out for me this year. First off, we held Annual Conference at the McAllen Convention Center. I had not been to the area since 1986 and was amazed at the amount of development that has occurred. I have to compliment the good people of McAllen for taking such very good care of us. (Makes me think we should return some day.) Second, Bishop Schnase had arranged a number of learning experiences for attendees at various border ministries. To use his analogy, border issues are a "thick file," not a "thin file." In other words, these are complex issues which simply can't be grasped by simple explanations. They require thoughtful, prayerful understanding and discernment. Several folks I spoke with found these experiences eye-opening. Bethany has not had much engagement along the border for several years. I am wondering if that may change after this experience? Third, we moved through the business of the annual conference quickly and smoothly. It was clear that was the plan - and the plan was followed. Bishop Schnase and his staff did an excellent job of orchestrating the process. They also set a tone which discouraged those who had come wanting to create conflict over various issues. I particularly appreciated this. Fourth, our music and times of worship were rich. Valley Praise led our contemporary worship and FUMC Edinburg loaned us their magnificent choir. The worship team did great work designing and leading the services. The Rev. Paul Escamilla preached one of the most moving ordination sermons I have heard. Finally, we rejoiced to receive the Rev. Stella Burkhalter as our next Executive Pastor of Compassion Ministries. Her formal time of welcome to Bethany will be on June 26th between worship services.
The highlight of the time was the ordination service. For those of us from Bethany, this was particularly true as Thomas Johnson was ordained a Full Elder in the United Methodist Church. Thomas began with us as a student intern while he attended UT. After graduation, he continued with us in Student Ministries. Then he discerned a call to ordained ministry and began his seminary work at Asbury Theological Seminary. But he did that academic work part-time as he continued serving Bethany, moving to a position as an Associate Pastor. During this time, he also married the excellent Tracy and began his family. Juggling marriage, children, seminary and professional ministry is a huge challenge! But Thomas did that so well. We were all filled with joy for this moment. But I am sure it was even more joyful and powerful for Thomas. What an amazing way to cap off the 2022 session of Annual Conference.
As always, your delegates represented you well. They were diligent to be present and to participate fully. They were a joy to be with. And it is a joy to be appointed, again, to lead Bethany UMC. Thank you for your prayers and support in the ministry we share. I pray Christ's rich blessing on Bethany and all of our Bethany family as we begin this next year of ministry, together.
Be Blessed,
Tom Deviney