Successful Annual Bethany Benevolence Fund Golf Tournament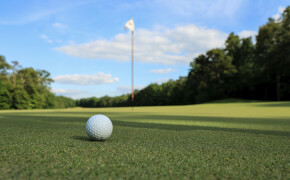 This tournament has a history of over 15 years at Bethany benefiting Bethany's Benevolence Fund!
The 2021 Benevolence Fund Golf Tournament was held on October 6th at the Avery Ranch Golf Club with 79 players plus over 40 Hole Sponsors. As a result of the tournament fundraiser, we were able to contribute $7,066.00 to the Bethany Benevolence Fund this year.
This tournament has a history of over 15 years at Bethany. The first two tournaments were organized by Bruce Elliott and held at Lago Vista Golf course around 2005-2006. Bruce continued to organize the fundraiser tournaments for a number of years until Randy Berry and Skip Davenport assumed the duties of organizing the tournaments as co-chairmen in 2016. Many thanks to all who supported the tournament by playing on the teams and also those who sponsored holes, provided prizes, and gave personal donations. Because of your generosity and participation, hundreds of people in the Austin community will receive financial assistance with rent and utility payments.
We are looking forward to having next year's tournament at The Golf Club at Star Ranch on Monday, October 17, 2022, so save the date!