Students on a Mission from God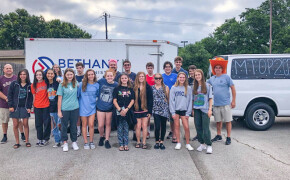 Mountain T.O.P. is a special time to share Christ with one another, and with all the people we meet and work with along the way!
Every year, Bethany students from 8th through 12th grade have an opportunity to participate in the Tennessee Outreach Project, or Mountain T.O.P., a partnership with the Cumberland Mountain community to address physical, social, emotional and spiritual needs of individuals and families in settings of various home repair projects. These projects include building wheelchair ramps, painting , fence and roof builds and repairs, and yard work. Our student and adult missionaries train in advance on how to use tools like circular saws and drills safely before heading north each June (Pandemic 2020 didn't count!) to get to work with our neighbors in Tennessee.
Due to health concerns and restrictions, church groups didn't mix together as they normally would, but rather our Bethany crew split into three teams. We did get to enjoy mixers and free time with missionaries from other churches. In the context of pandemic, the needs for socializing and community were even greater so we took special care to share and talk with the families, hearing their stories and having them ask about ours. These moments in particular were special holy times.
The Bethany teams all worked hard and were absolutely phenomenal, as everyone served together to problem solve and tackle obstacles. The specific jobs assigned this year included cleaning, landscaping, painting, building a wheel chair ramp, and deconstructing an old ramp, to name a few.
It's not all work and no play. Our missionary teams also spent time each day enjoying fellowship, games, craft activities, and even a dance party and talent show. The beautiful setting there and along the way provided opportunities for hiking and swimming, too. Student leaders also offered devotionals and other times of worship. First and foremost, this experience has been, as always, a special time to share Christ with one another, and with all the people we meet and work with along the way! Save the date for next June and become a part of this important work we do for God!