Notes of Love & Encouragement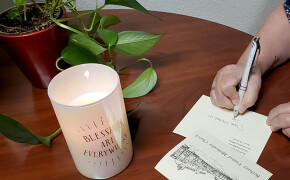 The Holy Spirit works in mysterious ways... and a new mission was born, Women Blessing Families.
The Women Blessing Women class extends note-writing outreach to Women Blessing Families!
The Holy Spirit works in mysterious ways. Several of our group have been involved in writing cards as part of the COVID Care team and have enjoyed it very much. One night as I was watching television it dawned on me that I really enjoyed this and would love to write notes of encouragement to other groups of people. I started thinking about what missions we had on the Bethany campus and off campus. Fresh Food for All came to mind. After texting Pastor Wynn, Women Blessing Women would writes a personal note to send with each person as they got their food each month.
The next Sunday our class talked about the idea and 6 people volunteered to help. We just happened to be studying the book Why I am Still Surprised by the Holy Spirit by Jack Deere and I don't think that is a coincidence. Pastor Wynn let me know the most clients they have had on a Friday was 125. So, the goal was 125 notes. The next Sunday when Women Blessing Women met, 12 members of the class volunteered: 11 members writing 10 notes a piece and 1 member writing 15 notes. 125 notes! Just what God wanted!
This past Friday was the first time that we passed the notes out in person. We felt great passing the peace of Christ though a note to one of God's creation. One encounter was quite touching. This particular client was a woman and let us know that every time she sees someone put the groceries in her car it brings tears to her eyes. We handed her the note and she said she would read it right away. She opened it and began reading. She wasn't quite finished and had to put the note away to pull up in line. She drove off and went to get her groceries. We watched her car and before she left the parking lot, we saw her pull over and read the rest of the note. She waved at us as she drove off. We knew that we had shown her a bit of God's love and had felt that love ourselves as we extended it to her.
They gathered the church and gave them the letter. When they read it, they were happy because of the encouraging message. - Acts 15: 30, 31