Making a Strange Land Home for Strangers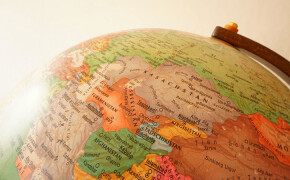 "When a foreigner resides among you in your land, do not mistreat them. The foreigner residing among you must be treated as your native-born. Love them as yourself, for you were foreigners in Egypt. I am the LORD your God." (Leviticus 19:33-34)
Several sisters and brothers at Bethany have been praying for and seeking to support refugees from many lands for a number of years. The world is a hard place with too many countries that are ravaged by war, violence, poverty and other situations that prove to be unbearable and lead to death. Women, men, and children seeking safety, protection, and life face their terrible reality that they must flee their own homes, communities, and lands to survive. Foreign nations have become safe, or safer, sanctuaries that offer a glimmer of hope, where they may not face the threat of starvation, persecution, or death for any number of reasons each day.
God has given us many good words of guidance for how we are to greet such refugees when they make their way into our lands, through the struggles that meet them: new faces, languages, customs, and challenges. "When a foreigner resides among you in your land, do not mistreat them. The foreigner residing among you must be treated as your native-born. Love them as yourself, for you were foreigners in Egypt. I am the LORD your God." (Leviticus 19:33-34) I encourage you to read more to be illuminated by God's Word at this World Vision site: https://www.worldvision.org/refugees-news-stories/what-does-bible-say-about-refugees
There are a few ways our Bethany family members are involved in particular now with sisters and brothers trying to get out of Afghanistan and make a life in America. A Bethany member is working with former military friends and colleagues to use their knowledge and connections to get as many threatened people out as possible. To his knowledge, every priority is with families, and there have been more failures than successes in aiding them to places of safety. Adults, especially women, with dependents and without Special Immigrant Visas, were trying to go by land north to Tajk. It isn't known how many people are making this attempted trek, as they are undocumented and communication resources are very limited. He shared that Germany, Uganda, and Guam were getting some SIV applicants during the final push to escape but the numbers seeking visas were overwhelming and the needs greatly unmet. The goal was to issue approximately 8000 visas but that was not achieved. For the individuals and families that reach the United States, non-profit organizations are bearing the brunt of offering humanitarian aid.
In the Austin area, one such organization is Refugee Services of Texas. Our Women of Vision team is working closely with RST to offer support in a number of ways, including volunteer help, lodging, and financial requirements. There are opportunities to serve:
Help setting up apartments
Grocery shopping
Airport transportation (includes providing a hot meal)
Meal delivery
RST has a required volunteer Zoom training coming up on September 28 at 6pm; you can sign up here: https://rstx.volunteerhub.com/?format=Calendar&filter=60681 With this training and a $10 background check, volunteers can then review the Volunteer Hub for service opportunities. We have Bethany members who've completed the training in order to help with apartment set-ups and they're a good source of information for that experience if you need a connection.
Currently, Refugee Services of Texas is collecting hotel and Visa gift cards for SIV evacuee families from Afghanistan. (FYI, Lakeline-Simon Mall sells Visa gift cards for a reduced activation fee at their business office in the food court). Gift cards can be dropped off at: 500 E St Johns Ave #1.280, Austin, 78752. They also need leads on possible housing for families. You can find a lot of great information and answers to your questions on RST's Facebook posting from August 26: https://www.facebook.com/RSTAustin
Of course, all of these efforts involve financial need for the evacuees and the services. You can donate through Bethany to help. Look for "Refugee Services of Texas-Afghan refugees" in the Choose a Fund drop down box HERE (Did you know that Bethany incurs a 2.2% fee from credit cards, which we must deduct from the donation? You can give by cash or check through the church office, and 100% goes to the organization being helped.) You can also donate to UMCOR's Global Migration fund: https://bethany-umc.org/umcor/
To learn more and get connected with Bethany's Women of Vision – Refugee Services of Texas team, contact: Cathy White or 512-740-5911. Please hold these evacuees and refugees in your prayers, that they may be led to places of peace that become home.