Giving Gifts on Christmas Eve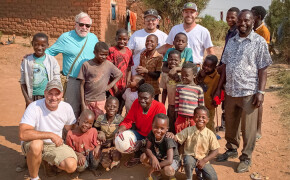 Each year, Bethany Missions' leaders select three missions for us to support through our Christmas Eve offering.
Even in opportunities to serve, Bethany's generosity pours forth! Have you heard yet that, from several missions in which we serve, we were able to make over $24,000 in donations on Giving Tuesday for mission work through our church, district, and conference? Wow, Bethany family! That's incredible.
Every year, Bethany Missions' leaders consider our missions participation and needs, and select three missions for us to support specifically during this holy season. 2021's recipients for our annual Christmas Eve Offering have been chosen! The results are:
International - Congo Projects for Relief
Local and Regional - Women of Vision/Refugee Services of Texas and Drive a Senior Northwest
We encourage you from now through Christmas to consider how God is calling you to offer a gift to Jesus through our Christmas Eve Missions Offering. Select this fund option from the Give Now button HERE to make your donation anytime. There are so many ways to support these important efforts, and you can learn how they share the love of Christ in our neighborhoods and around the world, and how you can connect, by reading a little bit about them below.
Drive a Senior Northwest provides essential services to older adults in our neighborhood. Serving opportunities include driving, office help, handyman, Senior Day Out helpers, and serving on the board or fundraising committee.
Contact: Carla Young,
Women of Vision/Refugee Services of Texas volunteers serve as first responders and encouragers to survivors of human trafficking.
Contact: Cathy White,
Congo Project for Relief: Bethany members have gone deep in one of the poorest, least served communities in the world - the Democratic Republic of Congo. Your gift will support a nutrition program, spread the gospel, educate women and children, and help move a Methodist community to agricultural self-sufficiency.
Contact: Tom Stanton,
Christmas Eve Missions 2021
Click an image to bring up viewer - Use arrows on side to scroll through photos