Friends+Together=Joyful!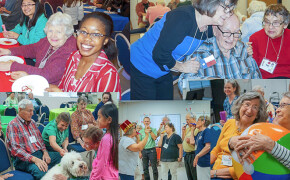 In-person weekly sessions resuming on September 9th!
Friends +Together=Joyful! While the temperatures are rising outside, at House of Friends (HOF) we are enjoying the cool comfort of coming together virtually each week. Our social care program supports folks with memory loss illnesses and offers a respite and fellowship for their family caregivers, serving families within a 40-mile radius from Bethany. Currently, 30-35 friends gather each Thursday for our 90-minute Zoom sessions that include large and small group chats, guided reminiscing, movement to music, singing, and a devotional. Additionally, a Bingo group meets on Tuesdays. See photos of session activities. Starting on September 9th, we will resume our in-person weekly sessions, where compassionate volunteers buddy with supported program friends during the day of activities. To celebrate Friends +Together, HOF will host a Family & Friends Ice Cream Social on August 26. Mark your calendar for this community event. Reach out to us for resources for a loved one with memory issues, caregiver support, and volunteer opportunities. See our HOF webpage or contact Susie Petersen, Director of House of Friends.