Endearing Friendship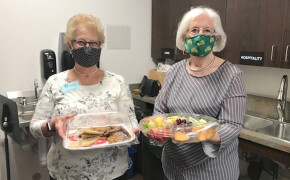 How COVID-19 didn't keep these Bethany ladies from meeting!
We celebrate the endearing friendship of our Funeral Hospitality Team and Bethany members! Take a minute to hear from Esther Fox about how COVID-19 couldn't keep her Bethany friends from meeting.
Before the COVID quarantine, a group of ladies from Bethany would sit in the same pew during the 11:00 a.m. service and then go to First Watch for brunch afterwards most Sundays. We would be at the restaurant for several hours just visiting. This group went from two people to as many as ten! Then, when COVID-19 forced everything to shut down, we weren't able to meet for brunch anymore. Losing this contact was a real disappointment.
Then, on May 17, 2020, one of the ladies and I were texting, and my friend said, "Want to come over for a scone? Distanced of course!" I went over about 2:30, and we spent several hours visiting. Then, the next week, I invited that same friend and another over for cherry rhubarb cobbler. As the weeks went by, another friend began joining us. We always met at 2:30, and if one of us had been possibly exposed to COVID-19 and/or need to be tested, that person would miss until it was safe for her to come again.
Months later, we decided to start doing dinner instead. Now, the host serves the main meal, and whoever comes over brings a salad, sides, and/or dessert. It turns out, having to plan and prepare a meal has been an added benefit to our well-being as we find ourselves researching and preparing new recipes!
This face-to-face contact has seen us through what would otherwise have been a very challenging time; these women are family. We continue to meet even as our volunteering and Sunday school classes back at church are starting to pick up in-person again.