FALL 2021
---
---

We follow the schedules of RRISD and Leander ISD
Welcome to Bethany School!
Bethany, Bethany, that is the place
Where I go in the morning with a smile on my face.
All our friends and our teachers will be there today,
And the Lord will be watching us play.

---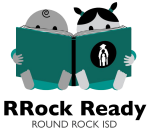 Bethany School is a Round Rock ISD Partner. RRISD provides training for our teachers so we can be sure your children are ready for Kindergarten.
---
Pat Rudd
Bethany School Director
The mission of Bethany School is to facilitate the development of every student while recognizing that each is a unique and valued gift of God.