Thank you, Bethany, for the wonderful welcome. It's been a joy getting to know you.
When people ask the icebreaker question, "What is the most interesting fact about you?" my standard answer is that I am the youngest of 10 children. I guess God knew I'd become a preacher and gave me a treasure trove of material to work with. I entered the world into the middle of a story. I was always struggling to figure out what was happening and trying to keep up. I guess God knew I'd become a preacher at Bethany.
I have learned this condition has a name, "Fear of Missing Out," and an acronym, FOMO. (I definitely had FOMO watching months of Bethany services online and reading about the many fun goings on last spring.)
Stepping into the middle of your story, I'm learning a lot, and I was prepared for that, but here's something I was not ready for: I'm not in charge around here. I have been a solo pastor for almost a decade. It may have stressed me out, but I have to admit, it was kind of fun being the boss. I guess it's appropriate that my first sermon topic will be the beatitude of meekness.
In the third episode of The Chosen, the disciples gathered around a campfire. They are circled, but they are not centered. Their strong wills and assumptions pull them away from the way of Jesus, and they end up humbled when faced with his selfless love. It's that way when we put other things at the center where God is supposed to be. It's especially that way when we put ourselves at the center where God is supposed to be.
Meekness is a rare and misunderstood gift, but it makes more sense in the light of God's glory and grace. Who would want to be self-centered when there's something so much better to circle around? If we run around with FOMO, trying to be included in everything the secular world has to offer, we miss the better way. If you volunteered for VBS, you can sing this with me: "Obedience is the Good Stuff!"
It was suggested I share a family photo. Here's me with my husband Hunter, my son Wyatt, and daughter Emery. Here's also one of my family before I was born. We never took an "official" family portrait after this one. Like I said, I've had some practice missing out and learning meekness. I guess God knew I'd be a preacher and need a little humility.
- Pastor Stella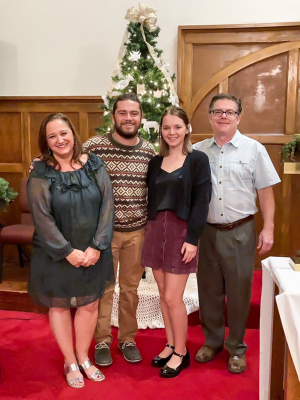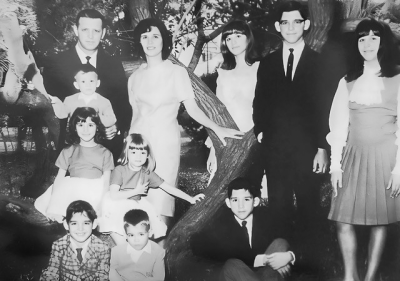 ---